Exotic Harvest®

Naturally Blue Potato
Vibrant bluish-purple in color, with a slightly nutty flavor, they're simply unforgettable. Truly a rhapsody in blue.

Kabocha
(also known as Japanese Pumpkin) Popular for its strong yet sweet flavor, similar to butternut squash.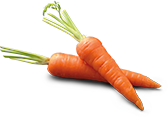 Carrot
A traditional American root vegetable that contains natural sweetness. It is a domesticated form of the wild carrot. The edible part of a carrot is a taproot.
---