TERRA® Plantains Voted Best New Snack Product by Snack Food & Wholesale Bakery!
Excerpt from article: In 2015, we launched the "Best New Snack & Bakery Products" contest to honor outstanding new snack and bakery products. After voting for the 2017 contest concluded in mid-December, TERRA Plantain chips and PowerBar Plant Protein bars emerged as clear victors. TERRA's Plantain chips took in nearly 50 percent of all votes in the snack category, and PowerBar's Plant Protein bars secured nearly 40 percent of the bakery products vote—impressive margins of victory that demonstrate the strong, on-trend resonance of these products with today's shoppers.
Read the full article here: The best new snack & bakery products of 2017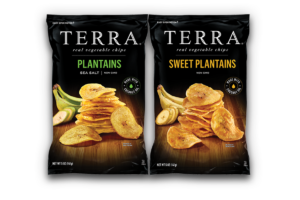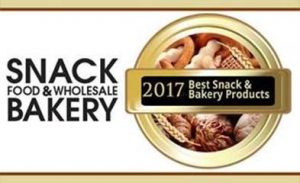 TERRA® Chips featured in Good Housekeeping's roundup of healthier chips to satisfy any craving: sweet, salty, spicy or savory
Excerpt from article: Whether they're crispy, crunchy, salty or spicy, at Good Housekeeping, we're nuts about snacks! Since there's no shortage of chip options at the grocery store, it can often be difficult to tell which ones are delicious, which are nutritious and which ones are both! That's why we've scoured the shelves to test, taste and recommend delicious chips that meet our high-bar for goodness.
Read full article here: 36 healthier chips to satisfy any craving: sweet, salty, spicy or savory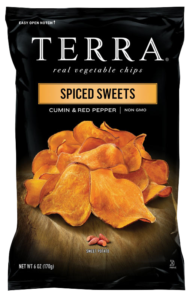 Packing for a Summer Getaway: Popsugar shares their favorite healthier summer snacks
Excerpt from Article: Calling all potato lovers — imagine every single type of potato thinly sliced and cooked to crisp perfection and you have Terra Real Vegetable Chips. These are a lot lower in sodium than typical potato chips and pack a variety of micronutrients from the beautiful colors!
Read the full article here: 22 Healthy Snacks to Pack in Your Beach Bag on Your Next Sunny Getaway